Welcome to SPELC FCU!
Holiday Closing!
We will be closed Monday, May 28, 2018 for Memorial Day
Check out our LOW Loan Rates!

Looking for a NEW or USED Vehicle, Boat, or Recreational Vehicle loan. Be sure to contact your CREDIT UNION first for the best rates!
Open your Checking Account TODAY!

Free online banking and bill pay with all Checking Accounts. We have four different types of checking accounts: First Checking for ages 16 thru 22: Simple Checking - basic checking account; Premier Checking - Requires minimum deposit with higher dividend; and Golden Checking - for ages 55 and over.
| | | |
| --- | --- | --- |
| Visa Gift Cards for all occasions. | Visa Travel Cards for all your travel needs. | Visa Reloadable Cards for your daily needs. |
Remember: SPELC FCU will never solicit you for personal information over the phone or via email. If you receive a suspicious call or email, please do not provide any personal information. Call the credit union immediately to report any such activity.
Visa Debit or Credit Card after hours
Visa Debit Card- Activation, Lost or Stolen - 1-800-543-5073
Visa Debit Card Member Service- 1-866-446-0771
Visa Credit Card Member Service - 1-800-808-7230
SHARE INSURANCE
As a credit union member, your CU deposits are insured up to $250,000 by the NCUISF (National Credit Union Share Insurance Fund). Rest assured that not one penny has even been lost by member of a federally insured credit union. We're keeping your money safer and sounder than ever before! Check out the NCUA "Electronic Tool Kit" for useful information on share insurance coverage.
Routing Number
The routing number for all your saving and checking account deposit needs is 265274765.
Skip a Payment on Your Loans!
Coming up with extra cash can be tough. You can skip a payment on your loan at least once in a 12 month period. (Does not include HELOC, overdraft, credit cards or Speedmoney Loans). Contact the credit union office for details.
Visa Credit Cards
We have VISA Credit Cards staring at a low fixed rate of 8.90%.
APPLY today and payoff those high interest rate cards.

Over 43,000 Surcharge - FREE ATM's!
*Use with your SPELC debit card!
* Free smart phone app
*Click Here to find the nearest ATM to you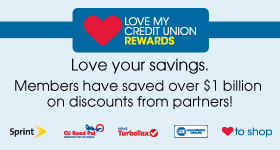 If you are using a screen reader or other auxiliary aid and are having problems using this website including pdfs or other images, please call a member service representative at (337) 436-2257 for assistance.